Nerves settled in for Olympic ice dancer Charlie White. He had been on big stages before, chased butterflies in his stomach before. But nothing like this—nothing so pressure-packed, so far outside of his comfort zone.
A full studio audience plus millions of people at home watched as he sat at the round table, next to his ice-dancing partner Meryl Davis. As the moment approached, he worried about blowing it.
What if he started laughing and couldn't stop?
What if he started babbling, as he does when he's nervous?
Then
Stephen Colbert introduced
the gold medal-winning pair, flitted over from his "news desk" and shook their hands, and the interview was on. White laughed often and sometimes seemed to teeter on the edge of losing it, but he held it together, even when Colbert accused White's hair of doping.
Soon, the most nerve-wracking moment of White's gold-medal victory lap was over, and he had survived.
"It was one of those things that felt like a pipe dream," White says. "You have so much respect for the people he has on the show. They're usually very influential and very important people. To be able to be on the show was really surreal. Even to this day, I can't believe that I got a chance to meet him."
In the year since the Sochi games, the thrill of victory and the agony of defeat only scratch the surface of post-Olympic life for American competitors. They have met the rich and the famous, signed endorsement deals, dealt with fame, retreated to anonymity, found contentment, struggled with self-doubt and questioned their futures in the sports they love.
Davis and White are still basking in the glory of their moment.
Julie Chu, a U.S. women's hockey player whose team blew a two-goal lead in the third period of the gold-medal game, had to get over losing in hers.
Joss Christensen, an unlikely gold medalist in slopestyle, is searching for that next big moment to validate the first.
And ski jumper Sarah Hendrickson, a former world champion battling to regain her best-in-the-world status, wonders if her moment of glory will ever come again.
Embracing the Now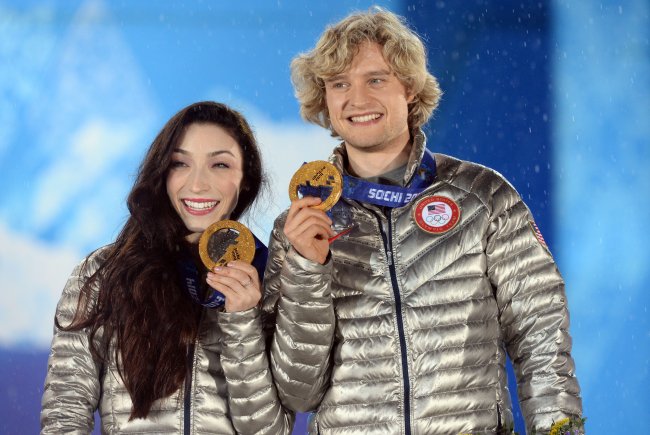 USA TODAY Sports
The last chapter of Davis and White's old lives began as they stepped onto the ice at Sochi. After dominating international ice-dancing competitions in 2012 and 2013, they were favorites for the gold. They knew if they nailed their performance that they would win the first gold in U.S. history.
It is not a peaceful memory. It makes The Colbert Report look like a walk in the park.
"It was all of my nerves from my whole life put into a couple minutes. Reliving it, just thinking about it, it makes you nervous just remembering how nervous you were," White says.
From the moment their world-record score went up on the board, their lives haven't been the same. A year later, they are still delighting in their accomplishment, even as the aftereffects remain overwhelming.
Davis and White won silver four years prior, and that made them temporarily famous to the extent they thought about winning gold. They thought it would be like winning silver, only a little more gratifying.
But the difference between silver and gold turned out to be the difference between a model Porsche and the actual thing. Magazine covers, cereal boxes, Dancing with the Stars, The Colbert Report—they were everywhere in the weeks after the Games.
"We were so totally unprepared to deal with the idea of being Olympic champions," White says. "To this day, we continue to try to figure out where it fits. As an athlete especially, your mental take on it was you just prepared the best you can. You don't consider what it will be like if you win. You don't consider how it will change your life. So when it finally happens, you're totally unprepared."
The first sign of their new lives came a few days after they left Sochi and arrived in New York City for interviews. They were accustomed to being recognized on the street by ice-dancing fans, but this was different. This was businessmen on the streets of Manhattan congratulating them.
"One of the things we're most grateful for is the warmth of the reception we received," Davis says. "People really opened their arms to us."
That has died down. White jokes they are recognized now more for their appearances on Dancing with the Stars than for being Olympians. Davis won and swears she has uttered not a word about the fact White lost in the semis.
In June, White got engaged to Tanith Belbin, a 2006 silver medalist in ice dancing. Davis is taking an independent-study class this semester at the University of Michigan, where Davis and White both have studied over the years. They haven't skated competitively this year and don't know yet whether they will try to defend their title in 2018. They are touring with Stars on Ice.
Their lives haven't returned to normal because they weren't normal before.
"The biggest change is going from being hungry, working every minute of every day, where it was like, you're going to sleep thinking about whether you've done enough during the day, if you're going to get enough sleep, if you ate right, to a feeling of satisfaction, of completion, of earning something, working hard for it and being able to enjoy it," White says.
"I think that's something we've really been able to enjoy. As we move forward, we'll find new things to attach ourselves to, to move toward. But for so long, we were so focused singularly on achieving this one goal. To achieve it and move forward from it is really transformative."
Says Davis: "Post-Sochi, I think for the first time ever, we were excited to just be in that place and just enjoy it, without looking too far ahead. We're really allowing ourselves that moment, still, to just embrace the now and embrace what's coming our way, as opposed to sitting down and figuring out the years ahead."